Welcome to the UNC Eshelman School of Pharmacy Newsletter for Experiential Partners and Preceptors! Newsletters will share updates about the School and Experiential Programs, recognize our preceptors and students, and provide teaching pearls for preceptors.
---
Student Spotlight
Tom Diaz, Class of 2024
Congratulations to Tom Diaz, UNC Eshelman School of Pharmacy class of 2024, recipient of a Space Medicine Association (SMA) Medical and Graduate Education Scholarship sponsored by Dr. Jeffrey R. Davis. This $500 scholarship also includes an award plaque and aerospace medicine textbook. This scholarship recognizes students who have demonstrated academic achievement and are interested in space biology and space medical operations (e.g., biomedical engineering, space flight physiology, pharmacy, human factors research, nursing, psychology, safety, life sciences, etc.). Since joining the Aerospace Medical Association in 2020, Diaz has attended their conferences in Denver, Colorado and Reno, Nevada. This scholarship helped fund his journey to Reno this year, where he met several prominent figures in the field of aerospace medicine, including physicians, pharmacists, military personnel, and even astronauts. Tom shared the following about this honor: "I am incredibly grateful to have received this scholarship; I was not expecting to receive it because of how competitive the field of aerospace medicine is. Receiving this scholarship has truly given me the confidence that I need to continue pursuing a career in this field, and I am so excited to continue attending these conferences and meeting other students and professionals who are also interested in space medicine. "
Diaz was born in Long Island, NY, and moved to Concord, North Carolina when he was eight years old. His interest in medicine was ignited after he was a Bone Marrow Donor for his little brother, David, who was diagnosed with Leukemia at the age of five. He went to UNC Chapel Hill for undergraduate studies in which he majored in Ethnopharmacology with a minor in Chemistry. Since starting pharmacy school amidst the pandemic in the fall of 2020, he has served as the Class of 2024 President, a position that he holds near and dear to his heart. In his free time, Diaz enjoys playing golf, cooking, and exploring different restaurants/activities in the triangle area.
After graduation, Diaz plans to apply for a residency with a specialty focus in cardiology or emergency medicine. He hopes to join the Air National Guard either during or after residency as well, while continuing his space-related research and attendance at space-related conferences. His 10-year goal is to be employed by NASA, SpaceX, Axiom Space, or any other space entity that is aiming to advance health care in space-bound populations.
Megan Earnhart, Class of 2025
Megan Earnhart, class of 2025 UNC Eshelman School of Pharmacy, is a terrific example of how to collaborate with preceptors and sites to integrate specific talents and interests into a learning experience while contributing to the quality of care at the site.
Her first pharmacy practice experience was with Realo Drugs in Hampstead for May and June this year. She was excited to learn that Realo has multiple programs related to diabetes prevention and self-management available to patients, an area of interest for her. She helped with the Diabetes Prevention Program, Prevent T2, which assists patients with prediabetes to make lifestyle interventions to prevent or delay progression to type 2 diabetes. That program led to the idea of a healthy cooking class which Megan hosted on the company's Facebook, cooking healthy chicken lettuce wrap, allowing her to use skills from her undergraduate nutrition degree.
When asked about her learning experience, Megan shared, "I have had an amazing summer at Realo Drugs in Hampstead. All the employees there are exceptional role models for pharmacy. They care deeply for their patients and everything they do revolves around that." Her preceptor, Dr. Nicole Buchanan, added, "Megan was a great addition to our Realo team during her summer immersion.  She went above and beyond taking initiative by looking into what services Realo offers our patients at our multiple locations. Megan asked if she could participate in our diabetes education program which is led by our clinical pharmacist Anna Baird. Megan used her undergraduate background in nutrition to be an active participant in the classes and then came up with an idea for her to provide a healthy cooking class for them. Megan's creative thinking in how to engage patients and her excitement to learn will propel her to do great things in the field of pharmacy."
Earnhart graduated from N.C. State University in May of 2021 with her bachelor's degree in Nutrition. She has pharmacy technician experience at CVS Pharmacy and at WakeMed Cary- Inpatient Pharmacy. She is especially interested in caring for patients with diabetes because her little brother has type 1 diabetes. She hopes to become a Certified Diabetes Care and Education Specialist after receiving her Doctor of Pharmacy.
---
Preceptor Spotlight
Congratulations to the following preceptors recognized at the North Carolina Association of Pharmacists (NCAP) Annual Convention in June 2022:
Matthew Kelm, PharmD, MHA: President's Award
Mary-Haston Vest, PharmD, MS, BCPS: ASHP Leadership Award
Tiffany Barber, PharmD: Bowl of Hygeia Award
Tasha Woodall, PharmD, BCGP, CPP: Dale Jones Memorial Award
Allie Fay, PharmD, BCACP, BC-ADM, CPP: Distinguished Young Pharmacist Awards
Penny Shelton, PharmD: Don Blanton Memorial Award
Click here to learn more about the awards.
---
Preceptor Pearl  
Charlene Williams PharmD, BCACP, Director of Preceptor Development
UNC Eshelman School of pharmacy
How to Support Learners who Reach for the Stars
Resources for navigating challenging teaching and learning situations are increasingly available to preceptors. Less information is available for preceptors who wish to further challenge learners who are performing beyond expectations and seeking additional learning opportunities. Below is a seven-step approach to assist preceptors with this endeavor adapted from guidance presented in the publications from Kantar and colleagues and Guidry and team.1,2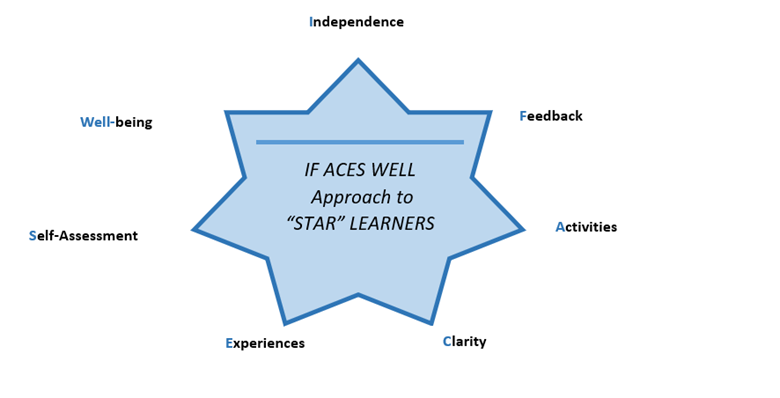 Step
Description
Promote learner independence.
Frequently assess when it is acceptable for the learner to perform certain activities with more autonomy. Timelines for learner independence are individualized to the learner.
Seek feedback from the learner regarding their level of challenge.
Create a learning environment conducive to conversations about the learner's comfort during learning. To maximize effectiveness, learning should feel like an effortful challenge. It should not be so easy that the learner is bored and also not so difficult that the learner gives up thinking they can't accomplish the task (ie concept of Vygotsky's Zone of Proximal Development).3 These are generally activities that cannot be performed independently at first, yet also have sufficient introduction to how they connect to prior knowledge and skills. Resources and preceptor support are accessible.
Provide examples of additional learning activities,responsibilities, and opportunities.
List activities that are more complex and diverse as abilities advance in the experience for those who meet minimum expectations and desire to advance their learning. Model these new activities first as the preceptor then let the learner lead them with coaching as necessary. Reiterate these are not expected nor required for successful completion of the experience.
Seek mutual clarity on expectations.
Be specific regarding what meeting expectations looks like for the learning objectives of experience. Share examples. This encourages learners who may have the tendency to compare their performance to that of the preceptor to instead measure their performance against the standards of the experience.
Identify learner strengths and abilities, areas of growth, prior pharmacy experiences, and goals early in the rotation.
Understanding where our learners are already proficient can help create more challenging learning experiences. Sharing our own areas of growth and strength may create an environment where learners feel safe to share their own experiences.

 

Encourage learners to self-assess performance and share their reflection.
Self-assessment with feedback from the preceptor allows correction of any discrepancies between preceptor and learner self-assessment.
Foster learner well-being.

 

Encouraging realistic expectations of self, exploring learner's preferences for activities to promote well-being, and modeling integration of work and life may help promote learner well-being and minimize overachievement behaviors.
References
Kantar LD, Ezzeddine S, Rizk U. Rethinking clinical instruction through the zone of proximal development. Nurs Educ Today. 2022; 95:104595. https://doi.org/10.1016/j.nedt.2020.104595
Guidry CM, Medina MS, Bennett KK, Schwier NC. The other side of "challenging learners": strategies for teaching and precepting the overachiever and high performer. Am J Health-Syst Pharm. 2022; 79(2):17-22.
Vygotsky, L., 1978. Mind in Society. Harvard University Press, Cambridge, MA.
---
Well-Being Minute
Suzanne Harris, PharmD, BCPP, Director of Well-Being and Resilience
UNC Eshelman School of Pharmacy
Pets and Well-Being
How can our pets boost our well-being? There is a growing body of research to substantiate the claim that there are mutual benefits of pet ownership— relationship that develops between animals and the humans who care for them. Adapted from Dr. Seena Haine's Well-being Elixir post.
What can we learn from our pets?
Practicing gratitude: Dogs wake up every day grateful to be alive and their mood is contagious. From the dog's point of view, gratitude is a sufficient reason for happiness.
Engaging in Movement and Play: Dogs (and cats) are great at listening to their bodies and prioritizing their basic need for movement. We humans often find this more difficult to put into practice. Having a routine where you regularly get up from your desk, stretch your legs, and change your scenery is important for both physical and mental health. Movement helps us to see things from a new perspective and stimulates creativity.
Taking a Break: Pets take time off whenever they need it. We humans feel more inclined to power through and risk burnout. Rest activates the parasympathetic nervous system, which helps the biologically balanced state of homeostasis and strengthens our immune system as the body goes into maintenance mode repairing and upgrading.
Caring and Forgiving: Have you ever disciplined your dog and in just a few moments your dog is already back to being happy? What about you? Do you hold hard feelings for a long time after someone hurts you? We have options. Hold grudges or forgive. Considering the fact that holding a hard feeling can weigh you down emotionally and be bad for your health, it's more pleasurable to just keep moving forward through learning how to forgive the offender.
Challenge yourself to consider well-being boosts we can learn from our pets!
Sources:
How to Join the Wellbeing Elixir Community: Wellbeing Elixir
McConnell A R, Brown CM, Shoda TM, Stayton LE, and Martin CE. Friends with benefits: On the positive consequences of pet ownership. Journal of Personality and Social Psychology 2011; 101(6) 1239–1252.
Curl AL, Bibbo J, Johnson RA. Dog Walking, the Human–Animal Bond and Older Adults' Physical Health. The Gerontologist 2017; 57 (5): 930–939.
---
Newsletter Suggestion box
We would love to hear from you! Please submit your feedback and suggestions for newsletter improvement along with ideas for future content (preceptor spotlight, student spotlight, preceptor pearl, etc.) here.
---
Upcoming Events and Other Information
09/15/22 3-4 pm: CIPhER/OEP Preceptor Design Lab Series: Taking the difficult out of difficult conversations – the importance of creating clear expectations to facilitate positive preceptor/learner relationships. Via Zoom. Click here to register.
11/17/22 3-4 pm: CIPhER/OEP Preceptor Design Labs will offer a session that highlights some pharmacy practice sites that are effectively integrating learners and extending the reach of the pharmacy team. Save the date. More to come soon.
---
Office of Experiential Programs Contact Information
Nicki Pinelli Reitter, PharmD, MS, FCCP, CDCES
Associate Dean of Experiential Programs
Responsible for leading the Experiential Education Program and for building and sustaining strategic experiential partnerships. The Associate Dean of Experiential Programs also serves as the lead administrator of the Experiential Education Program and is responsible for experiential practice site and preceptor engagement initiatives with the School.
Christy Holland, PharmD, BCACP
Director of Experiential Programs
Provides oversight of Immersion and Advanced Immersion experiences and serves as the primary point of contact for guidance regarding experiential policies and procedures. Provides assistance with setting student expectations, structuring learning activities to meet learning experience requirements, and guidance with student evaluations.
Sarah E. Pankracij, MS, MEd
Director of Experiential Student and Career Services
Provides support to students in the experiential curriculum. Advances the strategic goals of the School in the areas of career development, student support, and well-being. Contact for student academic, well-being, professionalism, or discrimination/harassment concerns. Provides Eshelman Care Referral and COVID Exposure oversight.
Jenny Kaselak, BA, MEd 
Assistant Director, Office of Experiential Programs
Directs student experiential program operations and processes, directs student experiential placements and scheduling, and serves as the primary contact for AHEC housing and Contact for AHEC housing and CORE/ELMS RxPreceptor.
TBD
Experiential Programs Quality Specialist
Ensures student completion of site-specific onboarding and school requirements (e.g. immunizations, drug screenings, criminal background checks, CPR, HIPAA Training, OSHA Training, TB Status, and other onboarding as required by sites). Point of contact for site affiliation agreements and memoranda of understanding.
esop_compliance@unc.edu
Charlene Williams, PharmD, BCACP, CDCES
Director of Preceptor Development
Develops and oversees preceptor onboarding, training, development, and recognition. Point of contact for preceptor training and development needs and preceptor newsletter content.
Newsletter Content Editor:
Charlene Williams, PharmD, BCACP CDCES