FACULTY / STAFF CENTRAL
---
Dean's Message
You can always find Dean Angela Kashuba's latest message below.
June 24, 2022
"One must maintain a little bit of summer, even in the middle of winter."
– Henry David Thoreau
Good afternoon faculty, staff and learners,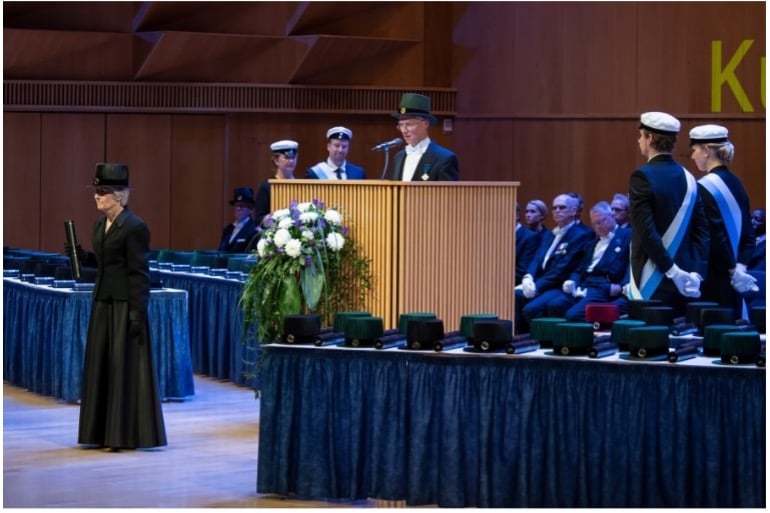 Thoreau notes the importance of a summer state of mind, and I hope you are finding some time to enjoy our summer!
I have heard a lot of wonderful stories from many vacations already. While COVID is still trying to interfere with our health and well-being, I hope that you are able disconnect and refresh before we start our next school year (in about 6 weeks if you are counting such things).
Since we last spoke, we have wonderful news about Kim Brouwer, Pharm.D., Ph.D. In June, Dr. Brouwer was one of 13 Honorary Doctors recognized at the 2022 University of Eastern Finland Conferment. This is a significant international recognition, implemented with great pomp and circumstance, as you can see in these photos. Dr. Brouwer, we are so proud of you, and the recognition of your work as a major science and society influencer!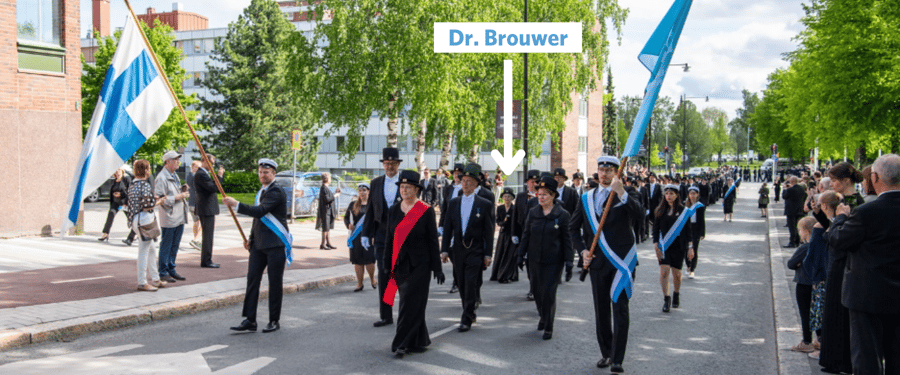 Today's updates include a newly published history of desegregation at the UNC Eshelman School of Pharmacy, the Greater Good Science Center's Happiness Calendar, parking info, new leave options for employees, info on flexible work arrangements, an update on the 2.5% legislative increase, and an upcoming 25Live training. Continue to visit our Return to Campus website for routine updates.
Our next Friday Wrap-Up will be July 29. We'll be back to weekly Wrap-Ups in August.
Have a wonderful July!
Angela
---
---
Vaccine Updates
Campus Health: Vaccines, boosters and anti-viral treatments are available at Campus Health, local physician offices and in selected pharmacies. In addition, the University has increased the number of low-cost at-home COVID-19 tests for purchase at the Campus Health Pharmacy, the Student Stores Pharmacy and in vending machines in the Carolina Union and Rams Head Recreation Center.
---
Well-being
Happiness Calendar: Each month, the Greater Good Science Center publishes a "Happiness Calendar" – a day-to-day guide to well-being. The June calendar reminds us to talk about the hard stuff, prompting us with daily topics such as, learn more about current events, share your mental health struggles with others, and expose yourself to stories from diverse communities.
The Well-being website is also a wonderful source for resources, which includes Campus Health contact info, and the Employee Assistance helpline. Please continue to utilize and share this resource.
---
Diversity, Equity and Inclusion
First Black Students at the UNC Eshelman School of Pharmacy: The UNC Eshelman School of Pharmacy plays a pivotal and often under publicized role in the desegregation of higher education. Recently, the stories of the School's first black students, William Wicker and Mona Boston Reddick, have been memorialized in UNC's virtual museum.
---
Other News
Parking: It is time to renew your parking for the 2022-2023 year! The new permit year begins on August 1. Please review the School's parking policy for information on the parking spots available to pharmacy employees as well as the process by which parking is assigned.  All permanent employees with a primary appointment in pharmacy need to submit a request via the following link: https://unc.az1.qualtrics.com/jfe/form/SV_0fc1nTCn8IoyoOW. You must submit your parking selection no later than end of day July 1.
New Leave Options for Employees: In accordance with Governor Cooper's June 6 Executive Order 262, UNC System President Peter Hans and Chancellor Kevin Guskiewicz have authorized our campus to provide paid Personal Observance Leave to ensure that University employees have an opportunity to observe days of personal, cultural or religious importance. This leave will be available for SHRA and EHRA non-faculty staff and for faculty who earn leave. Full-time employees will receive eight (8) hours of Personal Observance Leave each calendar year. Part-time employees who work at least half time are eligible for this leave and will receive a prorated amount based on their number of hours compared to a full-time schedule. Personal Observance Leave is available only to permanent, probationary, and time-limited employees. Consistent with other types of leave, supervisory approval is needed before employees may use the leave; supervisors are encouraged to accommodate employees.
In addition, per the extension of the Governor's May 4 executive order, eligible UNC System employees who provide documentation of receiving their first COVID-19 booster by Aug. 31 will get an extra eight (8) hours of paid leave (prorated for part-time employees). COVID-19 Booster Incentive leave may be used for any purpose. All eight (8) hours of this leave do not have to be taken all at once. This special leave will expire March 31, 2023. Visit the COVID-19 Leave Information page of the HR at UNC website for details.
Flexible Work Locations: Reminder that the Work Location Forms that were submitted this Spring have been approved and changes are to take effect no later than June 30, 2022. Any changes to work locations from current arrangements must be implemented by June 30. Please contact your HR Consultant if you have any questions.
Update on 2.5% Legislative Increase: As we approach July 1, many of you likely have questions about the 2.5% legislative increase (LI) that was included in the biennial budget approved last November for the planned upcoming fiscal year (2022-23). With each LI, formal instructions are provided by the Office of State Human Resources (OSHR) and the Office of State Budget and Management (OSBM) for each fiscal year regarding implementation of the LI. As the University awaits these instructions, they cannot yet move forward with processing the increase. When they are able to implement the LI, payment will be retroactive to July 1, 2022. More details are expected soon regarding details of the implementation and timing.
25Live Training: Before room reservations open on July 11 at 10 a.m., the IET Team will be offering a 25Live training session on July 7 at 2 p.m. If you would like to register for the training, click here. If you can't make the training, they have a collection of 25Live how-to videos that can help you before reservations open. You can access those video recordings here.  Any other questions about the transition to 25Live can be sent through help.unc.edu.
---
---