FACULTY / STAFF CENTRAL
---
Dean's Message
You can always find Dean Angela Kashuba's latest message below.
May 20, 2022, at 9 a.m.
I hope you've had a good week. It seems that summer has arrived, and it's forecast to be a great afternoon for today's "Birthday at the Bosh" Faculty and Staff BBQ and Baseball Outing.
As a School, we are gathering as faculty and staff today to celebrate our birthday. Yet in stark contrast, many members of our community are in mourning over the devastating attack on Black people in Buffalo, New York, last Saturday. We would like to recognize the pain and suffering of all those who are hurting and recognize that this has only increased the number of places on a list that are not safe from White supremacist violence. The shooter believes in ideologies that suggest not only is diversity unimportant, but that it is a threat. I want to reassure you that we value the many differences that race, ethnicity, religion, socio-economic background, language, ability, gender identity, and others bring to the School of Pharmacy. There is no doubt, and there is no question that diversity of our students, staff, faculty, and community makes us better.  We will continue our efforts toward creating an engaging and inclusive space where we all feel welcome and safe. The type of hate that led to this and so many other acts of violence are not welcome at the UNC Eshelman School of Pharmacy. If you are struggling in this time of grief, there is a list of resources at the Heels Care Network. You can also find resources based on identities here. Additionally, the University will hold a forum Monday, May 23 at 5:30 p.m., hosted by the University Office of Diversity and Inclusion and the Carolina Black Caucus. Details will be posted on the DEI website.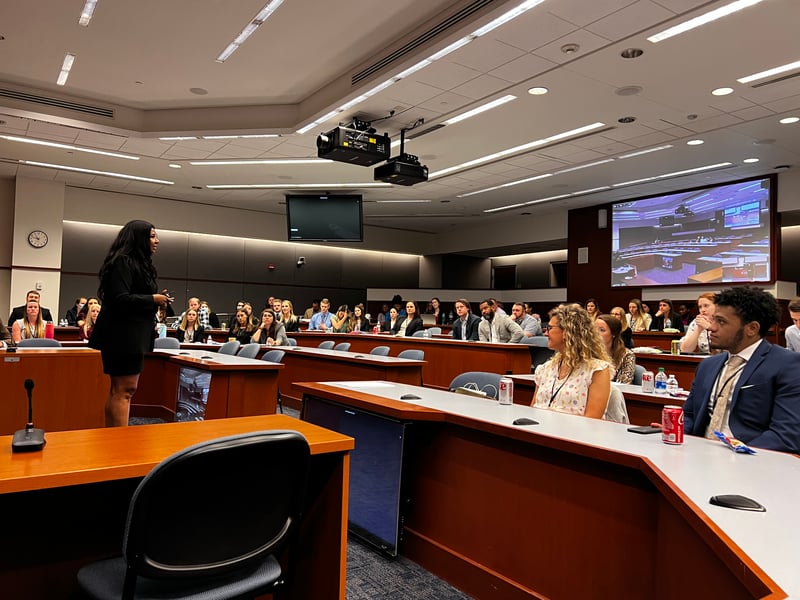 In other news from this week, I'd like to give a shoutout to Stephen Eckel, Kathryn Morbitzer, Stacey McGlothlin, and Arlo Brown who organized and led the Research in Education and Practice Symposium (REPS) on Monday and Tuesday. The symposium is an opportunity for residents, fellows, and postgraduate pharmacy trainees to present their research and projects. We welcomed about 250 residents, preceptors, and faculty from across five states both in-person and virtually at this event. Carla White gave the keynote address titled "Seven Strategies to Inspire Organizational DEI." In addition to the resident research presentations, other professional development session topics included financial planning, residency accreditation updates, and using social media for professional advancement. Congratulations to you all for hosting a successful and engaging event!
This week's updates below are brief and include well-being and safety resources, a new well-being resource about joy, and several reminders about testing, tents, and Sakai that were mentioned last week. Continue to visit our Return to Campus website for routine updates.
Have a great weekend,
Angela
---
Community Standards
Reminder of University Summer Testing Plans: The University has decided to close the Carolina Together Testing Program. Enrolled students should contact Campus Health if they wish to be tested or are symptomatic. Campus Health will be available open Monday through Friday, 8 a.m. to 5 p.m. for in-person visits. Faculty and staff who wish to be tested or are symptomatic over the summer should contact their physician's office. Please visit the Environment, Health and Safety website for specific COVID-19 guidance for employees.
Tents on Campus: The University will remove many of the temporary tent pavilions around campus. They will continue to monitor local and national trends and adjust operations, if necessary, in consultation with our public health and infectious disease experts.
As a reminder, our community standards can be found on our Return to Campus website. These standards include information on masking and food guidance.
---
Vaccine Updates
Campus Health: Vaccines, boosters and anti-viral treatments are available at Campus Health, local physician offices and in selected pharmacies. In addition, the University has increased the number of low-cost at-home COVID-19 tests for purchase at the Campus Health Pharmacy, the Student Stores Pharmacy and in vending machines in the Carolina Union and Rams Head Recreation Center.
---
Well-being
Adding joy to life: The Jed Foundation provides a powerful article on The Power of Joy and what joy does for our minds and bodies. Read the article to learn how you can take four steps to adding joy to your life.
May is National Mental Health Awareness Month: UNC offers a variety of resources to support positive mental and social wellbeing for employees:
Learn more about wellbeing resources for UNC employees.
The Well-being website is also a wonderful source for resources, which includes Campus Health contact info, and the Employee Assistance helpline. Please continue to utilize and share this resource.
---
Diversity, Equity and Inclusion
Our School is committed to creating a space where all feel welcome and safe. I want to remind you of the resources available to you should you need support:
UNC Eshelman Students: Please remember to utilize the Eshelman Care Team Referral form. It is there to report on academic well-being, health/well-being, professionalism, and discrimination/harassment/mistreatment.
Anyone facing the threat of violence should contact Campus Safety/Campus Police at 919-962-8100. I also want to remind you of UNC-Chapel Hill's Policy on Prohibited Discrimination,Harassment and Related Misconduct, which prohibits discrimination and harassment based on protected class identity. We encourage all members of the campus community who have experienced harassing or discriminatory treatment based on any protected identity to contact the Equal Opportunity and Compliance Office for reporting options and additional resources.
The  University Office for Diversity and Inclusion is committed to building and sustaining an inclusive campus community.
Students, including graduate and professional students and post-docs, can connect with various University support resources, including  the Dean of Students  team, Counseling and Psychological Services, and  Student Wellness.
Employees, including faculty and staff, can reach out to  EAP  (Employee Assistance Program).
Community Culture and Climate Improvement Tool: Broad educational initiatives and engagement are needed to build an inclusive community. The UNC Eshelman School of Pharmacy's Community Culture and Climate Improvement Tool is our gauge for the needs of the School and opportunities for impact. Please use this tool to report and provide feedback on occurrences that would benefit from education to build an inclusive community.
The UNC Healing Heroes Helpline (H3) is free and available at 984-215-5655
Hope4Healers, funded by DHHS, is at 919-226-2002
The Suicide Prevention Lifeline is at 1-800-273-8255 or at suicidepreventionlifeline.org
---
Other News
Reminder about migrating from Sakai to Canvas: UNC main campus has announced that it will be migrating from Sakai to Canvas for its Learning Management System beginning with the Fall 2022 Semester. Sakai will remain available for use through at least Fall 2023. At this time, there is no rapid method for migrating course content from Sakai to Canvas, and we understand the necessity for training to make the transition successful. Taking the above into account, the UNC Eshelman School of Pharmacy will continue to use Sakai as its Learning Management System for the 2022-2023 academic year and will plan to migrate to Canvas for the start of Fall Semester 2023. We will be partnering with main campus to provide resources, support, and training over the next year to ensure a smooth transition for the School. Beginning on May 20, you will be able to access Canvas for sandbox testing, training, and preparing course material for Fall 2023, but any content will remain unpublished before then. The one exception is if you participated in the Canvas pilot for Spring 2022, you may use Canvas again in Spring 2023. We will continue to provide more information regarding the transition and training in the near future.
---
---